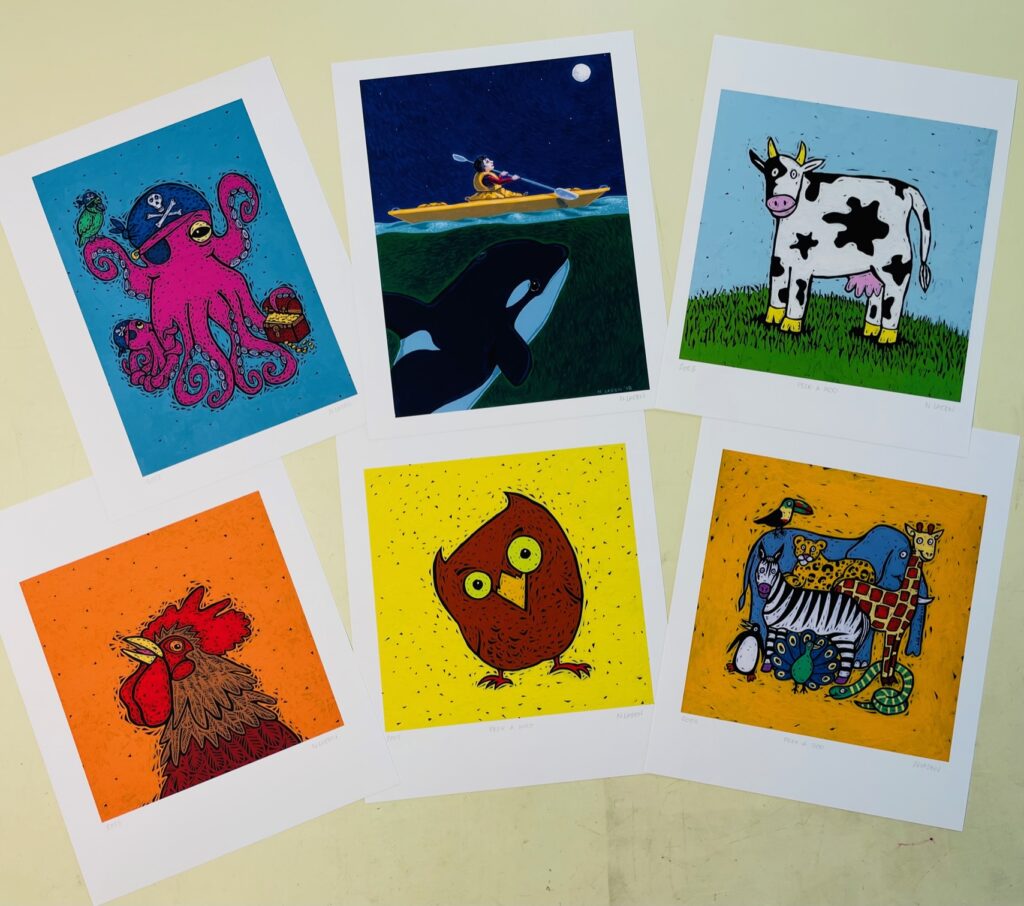 I have exciting news! Something that I've thought about for years has finally happened… or should I say I made it happen? I've always wanted to sell my art and prints of my art, but it took a few things to finally kick this into gear. The first thing is a little shocking. I got a cancer diagnosis in late January. If you want to know more about that you can read my CaringBridge journal. The second thing is that after two years of great book sales, possibly due to the pandemic, sales dropped way down. It could be the economy, or the glut of self-published books flooding the market. Whatever it was, it is not the best timing with my huge medical expenses this year. And then the third thing happened:
I received an email from a mom through my website here. (I hope it's okay that I used her photo.) She told me that her ten month old son was obsessed with the Zoo image in my book, "Peek-a Who?" She asked me if I had any prints of that image available for sale. I replied, "I don't know why I don't have any." And the next day I ordered a really nice printer. I've never had a nice printer. I couldn't swing the top of the line machines that cost thousands, but I'm very happy with the Canon Pixma Pro-200 that I bought. The inks are over $100, but that seems to be what you get these days. And I discovered beautiful acid-free paper from Red River Paper Company in Texas. The test prints- I started with the Zoo image- were gorgeous.
Then I had to figure out how to create an online shop.
First I went online and looked at many online shops that sold prints from children's book creators. There were many out there, and many people used forums like Etsy. I have resisted Etsy since I heard that they charge you for every piece you post, plus take commission on sales. I called my genius web guy, Jeff. Jeff built this website for me. He built my first website around twenty-five years ago. He is a fine artist and digital designer. (You can visit his shop here.) Jeff immediately made me feel like I was on the right track. He said he would build Shop.NinaLaden.com as a sub-domain of this site. We both worked on it for a month- the month that I was recovering from two months of simultaneous chemo and radiation treatment. This was good work to help me focus on my future, and get stronger for major surgery to come.
It was a lot of work for both of us. Aside from me having to put all of the 34 images available as Art Prints into optimized web form and high resolution form for printing, and I had 54 framed pen and ink drawings to sell that needed to be photographed and then brought into Photoshop to optimize them, plus writing all of the text, I also had to do some "adulting" and set up a business checking account, and get Stripe (to take credit cards), get a business PayPal account, and research the sales tax thresholds. (once I reach the threshold I'll have to charge tax) PayPal and Stripe do take percentages- but it is not as much as Etsy. But you do have to spend money to hopefully make some down the road.
Jeff definitely had the harder job. He built the shop using Woo Commerce and we needed other Plugins, and he had to write code- but he is a wizard and he figured things out. Shipping was tricky. A Plugin solved that issue. We tested and tested, and finally yesterday Shop.NinaLaden.com went live! There are 34 Art Prints available. They are 8″x10″ and look bold and bright on the acid free Polar Matte paper. They would look so good in children's rooms, playrooms, in kitchens, as baby shower gifts, the possibilities are endless. I will be adding more Art Prints in the future. I'm thinking about doing some series: fish, mushrooms, cats, dogs, etc…
There are also Original Art (all framed right now) pen and ink and pen and ink with vintage rubber stamp drawings available for sale. These are one-of-a-kind. There were 54 pieces to start- some have already sold since the shop opened. These are pieces I've drawn over the past few years. I will be adding more original art (may not be framed) in the future. I am also planning on eventually adding my "Rugged Beauty Jewelry" to the shop.
For years I have made my Rugged Beauty pendants- and sometimes earrings- with semi-precious stones (mostly agates) that I find on our neighborhood beach, and then polish. I add tiny semi-precious faceted stone beads to them with beading wire. They hang on leather cords with mother-of-pearl button closures. You can dress them up or wear casually. They are unique and amazing little treasures from Mother Nature. These Rugged Beauties in the photo are my personal collection. I'll be photographing the ones that are available soon.
Right now this is a grand experiment. I'm really hoping that it takes off so I can share my art with folks near and far, and brighten walls and lives with my fun, funny, quirky, off-beat, funky, lively, unique, vibrant work. I am dedicated to getting work that has sold shipped as soon as possible. There will be a short break when I'm in the hospital, but I hope that I'll be getting orders and sending them out in the foreseeable future.
Thank you for reading, and thank you for checking out Shop.NinaLaden.com – I hope you like what you see!