A brief history of Nina Laden
Nina Laden was born in Manhattan, New York City on January 12, 1962. Her parents, Frieda Savitz-Laden and Bob Laden were both artists. Nina has been making art and telling stories since she could hold a crayon. (Mom had to hold the glue.)
She went to Syracuse University's College of Visual and Performing Arts and majored in Illustration. She graduated Magna Cum Laude in 1983. After college she lived in Atlanta, Georgia and worked first as a graphic designer at the John H. Harland Check Printing Company, and then went freelance doing illustration and graphic design.
Nina met her husband, Booth Buckley in Atlanta in 1989. He lived in Seattle and had three boys, Brian, Chris and Doug. Booth moved to Atlanta and they opened Aurora Coffee, Atlanta's first espresso bar, in 1992.
In 1994 two big events happened: Nina and Booth eloped on Martha's Vineyard, and Nina's first children's book, "The Night I Followed the Dog" came out to rave reviews, best-selling status and it won many awards, setting the stage for Nina's dream of being a children's book author and illustrator. Since then Nina has published over twenty-five more books, working as both author and illustrator, and in some cases author, and others as illustrator. She creates picture books, novelty board books, graphic essays, and cartoons.
Nina, her husband, Booth, and their cat, Marley, live on Lummi Island, in the San Juan Islands in Washington State. Nina built the studio of her dreams next to her house. When she is not writing and illustrating she and her husband go shrimping and crabbing on their fishing boat. She also kayaks and paddleboards, forages for wild mushrooms and food, grows delicious things to eat, and loves to cook, can and preserve food. She also makes jewelry with agates she finds on the beach.
In 2017 the Mazza Museum of Children's Picture Book Illustration came to visit Nina's Studio. The museum is in Findlay, Ohio and is a true treasure.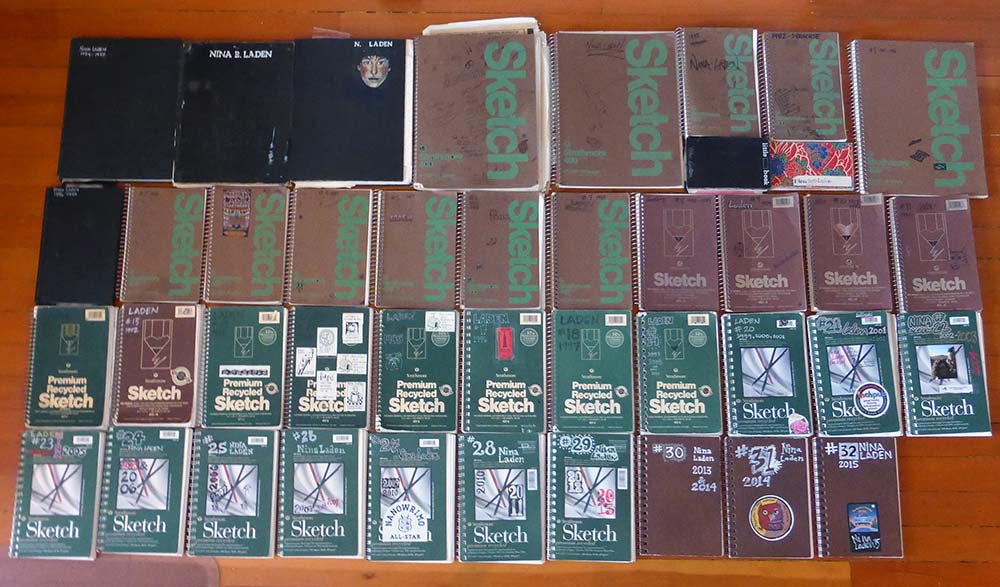 The one thing that has helped Nina with her creativity and her life is keeping journals. She is about to start her 42nd journal. (She has done this consistently since high school.) Her only rule for keeping a journal is: you can never tear out the pages. Everything must stay. A sign she saw that she loves said, "If you don't make mistakes, you won't make anything." So make a lot of mistakes and make a lot of art.
Thank you for reading this, and thank you for reading her books!
Watch videos of Nina reading selected books.