Rolling in to stores, libraries, places where books are sold starting August 16th, 2022, I am so excited to announce the arrival of The Trainbow! It's a book… it's a train… it's a rainbow… it's an accordion fold book that you can both read and play with.
I have always wanted to do an accordion fold book and I want to take you on a little journey so you can see how this super fun book came to life.
It's no accident that I decided to do a train book. Trains have been in my life, literally since I was two years old. We lived in Rego Park, Queens, in New York City and the Long Island Railroad ran through our backyard- just behind the garage. All day and all night, all sorts of trains went by: passenger trains, freight trains, trains that worked on the tracks- and they all shook our house. I had a fish tank in my bedroom and sometimes when the house shook, the water would slosh out of the fish tank and I'd find guppies on the floor when I woke up in the morning. The "X" on this map is where our house was- the first house on Alderton Street after 63rd Drive- LIRR is the railroad.
I even drew trains when I was little. I made this train, which almost IS a rainbow train when I was around six years old. It was done by coloring the paper first with many colored crayons, then covering it all with black crayon and ultimately drawing with a pointy tool like a toothpick.
The book itself started years ago when I came up with the name, "The Trainbow," and then wrote a little poem about it, with a song. Then I made a black and white dummy (yes, that is what we call a mock-up of a book) out of Bristol Board. I wanted the book to move sort of like a train, so that's where the accordion fold came in.
This was what I sent to my editor at Chronicle Books, and she liked it enough to bring it to acquisitions, and to my delight, the decision was made to offer me a contract to turn The Trainbow into a book. That was great news, but it didn't happen smoothly, or quickly. For a while The Trainbow got derailed- by both the pandemic, and by some circumstances beyond my control. Finally a designer, Lydia Ortiz, was brought on board and the book started moving again.
There was mutual agreement that the rainbow part of The Trainbow should stack on top of the book- and fold and unfold to form an actual rainbow. This took quite a few tries… and I had to make sure that the red arch was on top. I also wanted the book to read from right to left as it unfolded, and this had to work on both sides. So I created this little color dummy:
Unfortunately the arches were too thin, and they would never hold up when the book was die-cut, so I went back to the drawing board. I had been pushing for the smoke from the train to create the arches. At first, my editor didn't think she wanted that because she was concerned it was pollution… but I convinced her that it was steam. It's a steam train- and it was rainbow steam… and it was fun. So I made another dummy:
This time we were on the right track! (Sorry for all of the train puns, I can't help it.) Then the real work began. The awesome design team at Chronicle Books worked with the amazing production team and they got me a template of the die-cut. I paint traditionally and I use Holbein Acryla gouache on my board books. I had to paint the front and back sides of The Trainbow as one continuous painting- the front side was almost five feet long.
I also wanted to paint the title so I could bring the rainbow into the letters as well.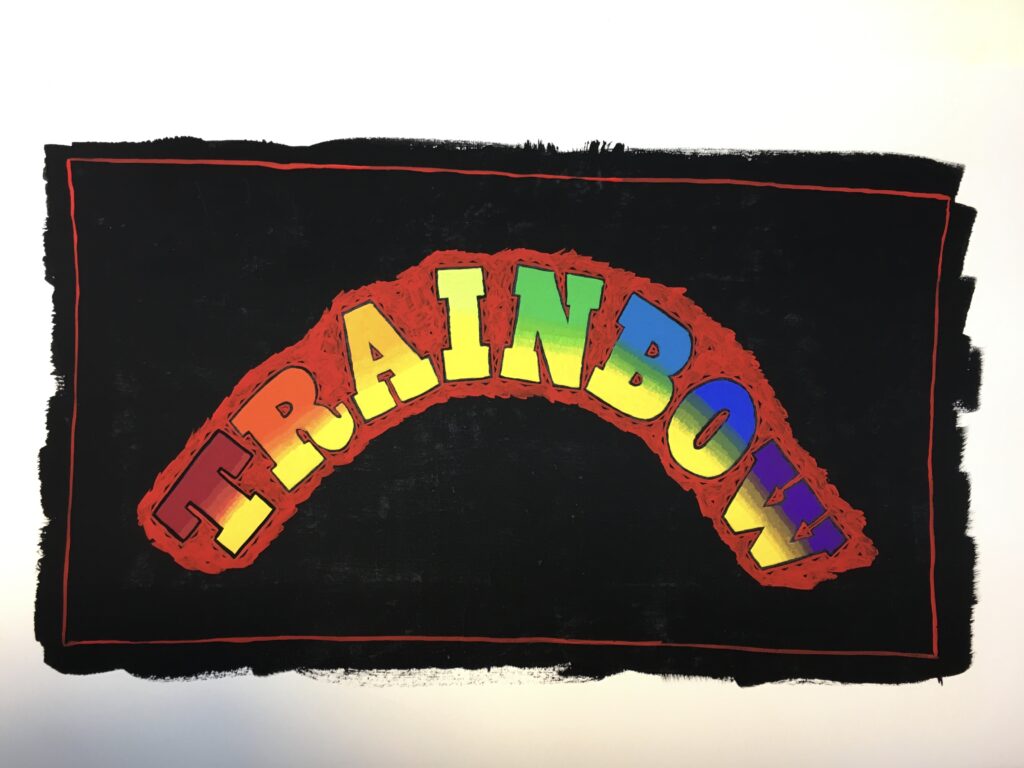 As you can see, I paint my paper black to start. Then I paint over the black and leave little marks to give the art texture. I've been doing this style for my board books since I did "Peek-a Who?" over twenty-two years ago. I call it my "fake woodcut" look. It gives the art energy.
When all of the art was done I actually drove it from my home on Lummi Island (near the Canadian Border) to Seattle where it was scanned. This was in the middle of the worst part of the pandemic, and I barely left my home at that point, but I bravely wore a mask and started the art on its journey to really becoming a book. Chronicle Books took over from there- and I stood by, at the station, and helped fine tune this little book to be the best it could be.
I hope you will let The Trainbow into your home and into your heart and imagination, whether you love trains, or rainbows, or unique books that bring a sense of joy and play into reading!